A Guide to Comprehensive Eye Examinations in Singapore (2021)
Article by Chew's Optics Specialist. 28 May 2021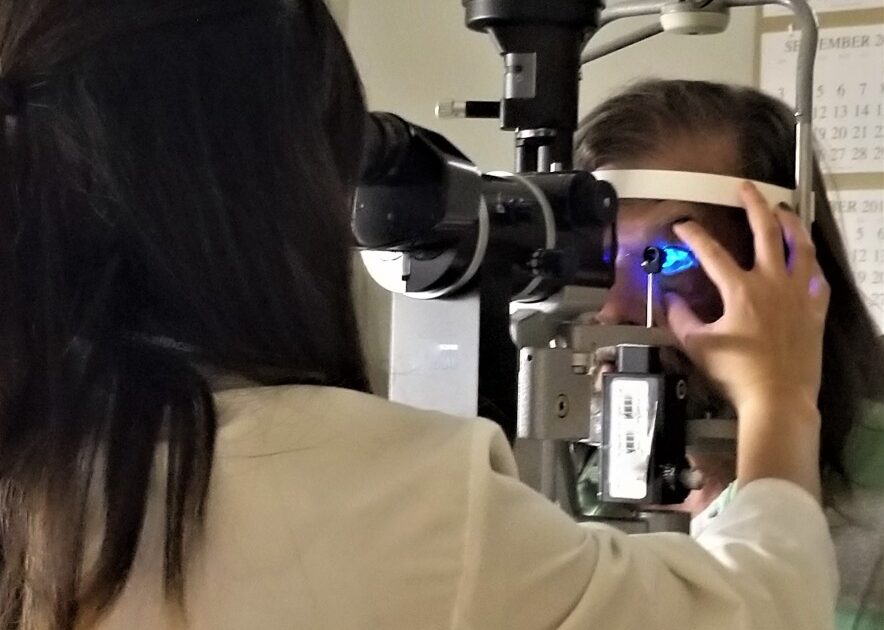 It's a common misconception that sight tests and eye exams are the same thing, but they're not. A simple sight test is usually conducted by an optician, whose main job is to fit glasses and fill prescriptions written by an optometrist. The test itself focuses on your ability to see objects up close and far away. An eye examination, on the other hand, goes in-depth. Conducted by an optometrist, it consists of a vision acuity test, refraction test, dry eye screening and retinal imaging.
"Our optometrists screen for eye diseases and examine the back of the eye (known as the fundus) for any bleeding or macular changes. We also test your intraocular pressure to check for signs of glaucoma and examine the anterior eye for symptoms of cataracts," says Jack Lok, an optometrist at Chew's Optics, your friendly neighbourhood optical shop along Teck Whye Lane.
These extensive examinations are what makes a real difference to your eye health. It's time to pay attention to them and understand why we need them. Here's your guide to comprehensive eye examinations in Singapore.
How often should you get an eye exam?
Most of us don't think much about the health of our eyes, and there's a reason for that. Our vision changes slowly. Unless you experience a sudden decline, you probably won't even notice anything different. That's until you realise one day, years later, that you can no longer read the subtitles on your television screen. This is why it's crucial to get a comprehensive eye examination every one to two years. That's the average recommendation.
How long does an eye exam take?
A routine eye examination usually takes about 20 minutes to complete. However, this may vary, especially if you have certain medical conditions, a family history of eye diseases, or if you're showing unusual symptoms. Needless to say, additional tests will prolong the session. In some cases, you may have to return on a separate day to complete those additional tests. Still, for most people, it doesn't take long.
How much does an eye exam cost?
At Chew's Optics, a convenient spot for the Westies (especially those living in Bukit Panjang, Choa Chu Kang and Teck Whye), a comprehensive eye examination ranges from S$20 per session. Prices may vary depending on other factors such as whether it's booked as a stand-alone service or an add-on service on top of a purchase (e.g. getting a new pair of spectacles or contact lenses). A small sum for a lifetime of health benefits, it allows everyone from all walks of life to afford quality eye care.
Can an eye exam detect cataracts?
An optometrist is able to detect signs of cataracts through a series of eye tests. Cataracts occur when the lens of your eye – normally a clear area that allows light to reach the retina – becomes cloudy or opaque. Although this condition is most common among the elderly, it can affect anyone. This includes younger people who have suffered injuries to the eyes or exposed themselves to excessive amounts of UV rays without proper UV protection. If left unchecked, this common and easily treatable condition can lead to blindness, making early diagnosis even more critical.
Can you check for AMD during an eye exam?
A comprehensive eye check is also useful for detecting symptoms of age-related macular degeneration (AMD). This eye disease is the leading cause of sight loss in older adults, and is typically caused by aging. Over time, as you age, the macula (a part of your retina that helps you see what's in front of you clearly) may wear down. It affects your central vision, which is essential for identifying details, shapes and colours. Without it, you'll struggle to recognise a person's face or focus on objects up-close. As certain late stages of AMD are irreversible, early detection via a comprehensive examination is key.
Why are eye exams important for those with systemic health conditions?
Eye health is linked to general health as well, and an eye check can help to detect issues arising from cardiovascular disease, diabetes and high blood pressure. For diabetic individuals (includes those with type 1 and type 2 diabetes), getting regular eye checks are doubly important because of a condition known as diabetic retinopathy.
This health complication weakens the small blood vessels in the retina. Sugar blocks these vessels, which may then swell or leak blood into the retina and lead to blindness. Diabetic retinopathy usually does not come with symptoms in the early stages. It's possible to suffer from the disorder without knowing about it. Your best bet to combat it is a comprehensive examination with an optometrist at our optical shop at Teck Whye.
Book an appointment with us here, or visit us to get your eyes checked by an optometrist. We're located at 144 Teck Whye Lane, #01-211. Open daily except Mondays.
For further enquiries, contact us at +65 8314 7093.