WHERE AND HOW TO BUY CONTACT LENSES IN SINGAPORE
Contact lenses are a great alternative to spectacles. This is especially true when you prefer not to have to worry about your spectacles slipping or getting smudged while you go about your day. Purchasing contact lenses works differently from buying spectacles. Since they are medical devices, one should first get a prescription from an optometrist to own a pair of contact lenses. This need not be a cause of worry though, because the process is simple and does not require a lot of time.
Here are the steps you should take to start on your contact lens journey:
Where should you buy contact lenses?
After you've had your contact lens prescription and trial, you'll be ready to make your first contact lens purchase. With so many contact lens types and places to buy them from, making your first purchase can be daunting. Make sure you only buy from sources that are established and verified. It's not worth risking the health of your eyes just to save a few dollars. If you ever need advice, get in touch with our friendly optometrists who will be willing to give you the guidance and help you need in this journey.
At Chew's Optics, we offer a wide variety of contact lenses in Singapore to choose from. We carry lenses from numerous leading brands, such as Acuvue Define, FreshKon etc. Looking to start wearing contact lens? Head down to our spectacle shop in Teck Whye, near Bukit Panjang Plaza. Allow our experienced optometrists to help get you started. They will also help you find the perfect pair of contact lenses that best suits your needs.
Go for a contact lens exam
The first thing you should do is to make an appointment with an optometrist for a contact lens examination. During this eye checkup, the eye doctor will usually ask a few questions and run a few tests to determine the health and condition of your eyes. Contact us to book an appointment with us today!
Getting started with your contact lenses
When you start wearing your contact lenses, make sure to take proper care of them. It is important to clean and replace them as required. Learning how to wear and remove contact lenses may be tricky at first, but with professional help and practice, you'll be able to get the hang of it. Once you start wearing contact lenses, you'll be amazed at the freedom and convenience it provides.
Disposable Contact Lens
There are various disposable contact lenses available in the market. This includes spherical lenses for near or farsightedness, toric lenses for astigmatism, multifocal lenses and cosmetic lenses.
Made To Order Lens
Custom lenses can be made for hard-to-fit eyes, or for special correctional treatments. Our experienced optometrists can customize a pair of contact lens in Singapore specially for your needs.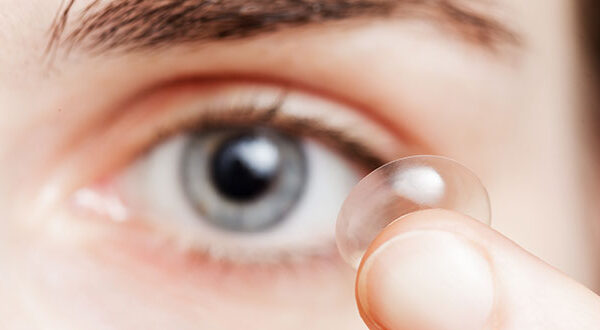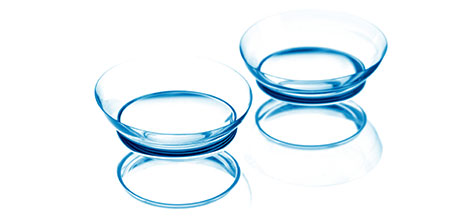 Daily, Biweekly and Monthly Contact Lenses
The main differences between daily, biweekly and monthly contact lenses are the amount of care you need to give the lenses and their prices. Daily contact lenses don't need cleaning as you throw them away at the end of the day. Do you prefer a pair of contact lenses for occasional wear? Or do you suffer from any allergies? If so, a pair of daily contact lenses would be most suitable for you. Biweekly and monthly contact lenses are more suited for those who prefer to wear contact lenses frequently and who may be more price sensitive.
Astigmatism (Toric) Lenses
Toric lenses are suited for those with astigmatism. People with astigmatism require a special design to correct refractive errors due to their irregularly shaped corneas. Toric lenses are available with most leading brands such as Acuvue Define, with the options of daily, biweekly and monthly. Those unsure of whether they have astigmatism can take our contact lens exam in Singapore.
Coloured Contact Lenses
Coloured contact lenses help to enhance your look. They can complement the natural colour of your eyes or add a bold touch to your outfit with a totally different hue. They come with the option of vision correction coloured contact lens, or in the form of Plano coloured contact lens which is purely cosmetic and has no correction power.
Iris Enhancing Contact Lenses (Big Eye)
Iris enhancing contact lenses serve to increase definition to your irises in a more natural-looking manner than coloured contact lenses. By adding subtle colours and patterns on the limbal ring of the contact lenses, it helps to make irises appear wider and larger.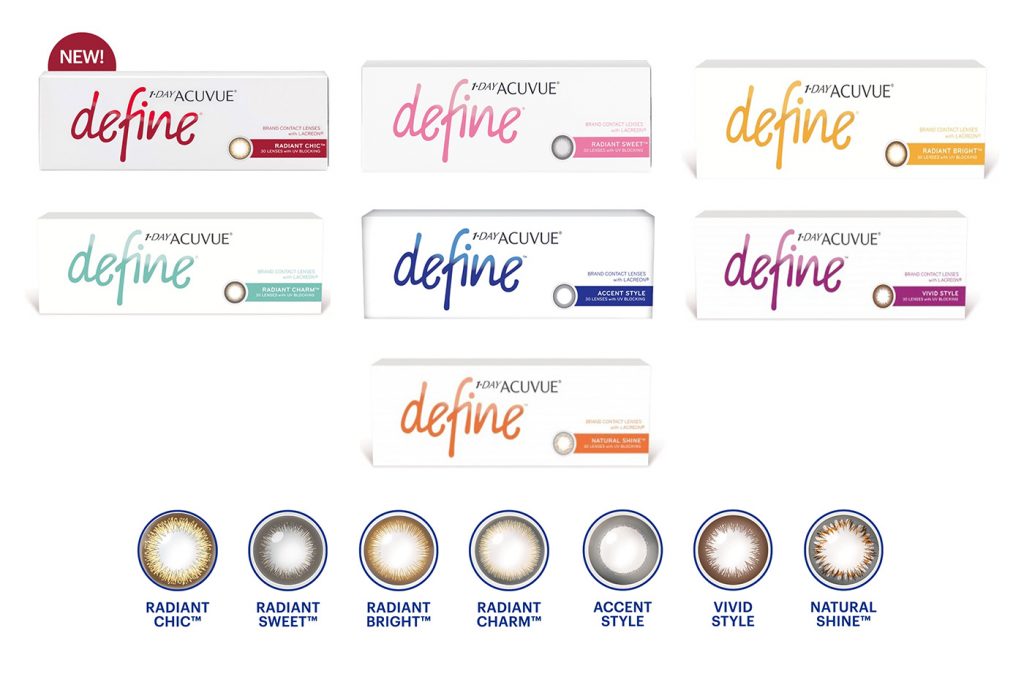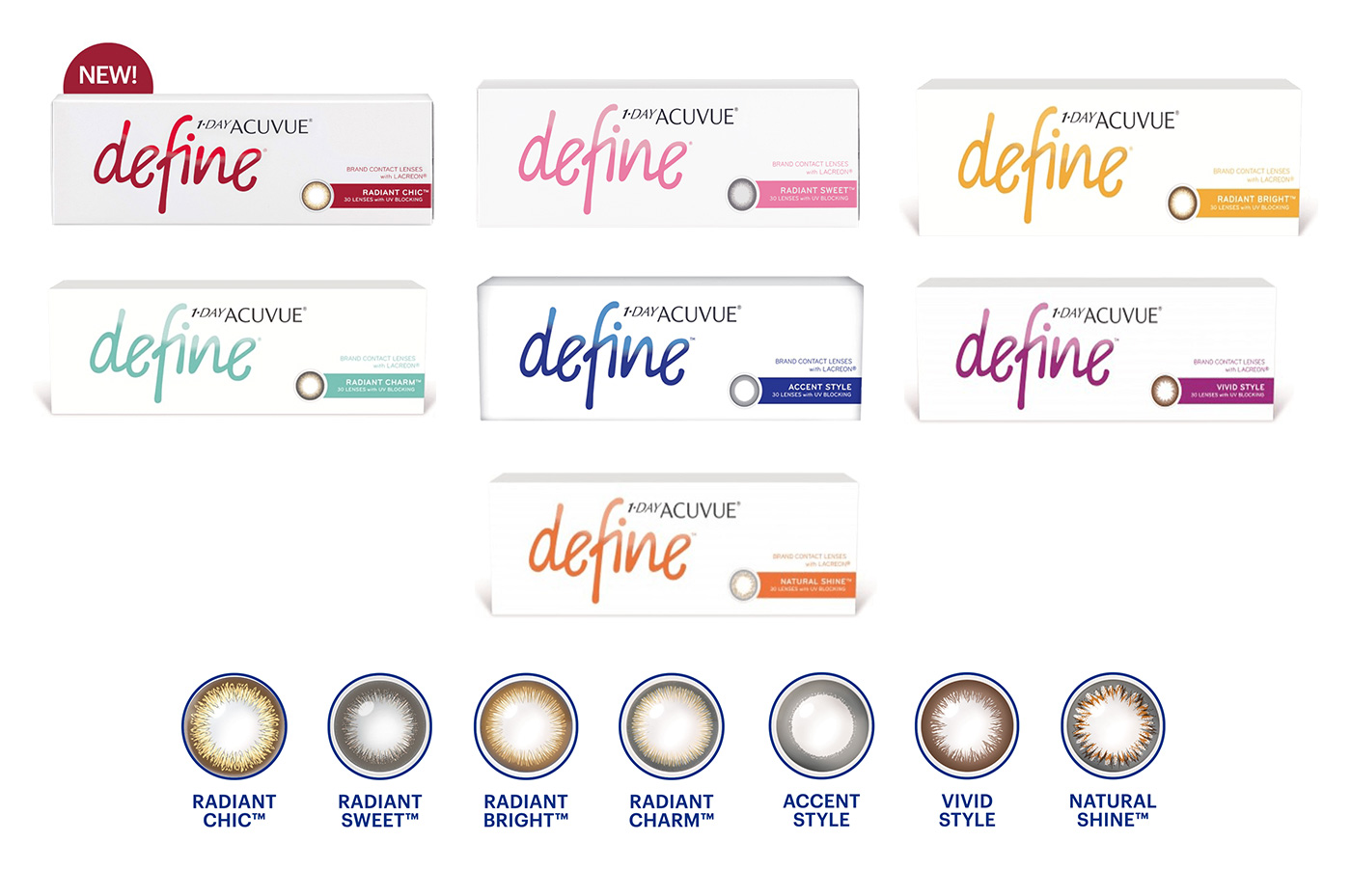 Acuvue Define Lenses
A popular contact lens brand among contact lens wearers is Acuvue, particularly the Acuvue Define series. The 1-day Acuvue Define soft contact lenses are designed with translucent layers to accentuate, not hide one's natural eye beauty. They are available with correction for near and farsighted prescriptions only. These daily disposables are available in 30 lenses per box. Some may be wary of trying eye-enhancing lenses, but there's no need to fear with Acuvue's lenses. Not only are Acuvue Define lenses beautiful, but they also have one of the highest levels of UV protection available in a daily disposable contact lens. These soft contact lenses will be sure to protect your eyes from UV light and its harmful rays. On top of that, Acuvue's Lacreon technology permanently embeds a water-holding ingredient, similar to that found in natural tears, providing up to 20 hours cushion of moisture for exceptional comfort. With beauty wrapped in comfort technology, pigments are safely enclosed between two layers of lens material to prevent direct contact with the eyes.
1-day Acuvue Define is available in seven designs:
RADIANT CHIC for a cool, bold and charismatic look
RADIANT SWEET for a sweet endearing look
RADIANT BRIGHT for a bright captivating look
RADIANT CHARM for a deep enchanting look
ACCENT STYLE for an elegant look
VIVID STYLE for a vibrant look
NATURAL SHINE for a sophisticated look
Each design blends seamlessly with one's unique iris pattern to accentuate, not mask the natural eye beauty.
Acuvue Define lenses are a perfect choice, especially for those seeking stylish and comfortable lenses. Endorsed by many beauty bloggers and influencers, it's clear that Acuvue Define lenses hold true to their claims. These enhancing lenses provide beauty without sacrificing comfort — what more could you ask for?
If you're looking for a pair of Acuvue Define lens, rest assured that we've got you covered. Our experienced eye care professionals will help you find just the right Acuvue Define lenses to best suit you.
Want to get started with contact lenses? You should get your eyes checked first and take an eye examination! Contact Us for tips and guidance to help start you off. Our eye care professionals will teach you all you need to know about lens care, like using a disinfecting solution and how to remove your contact lenses.
All contact lenses have to be fitted and prescribed by a qualified optometrist or eye doctor.